Webinar Q&A:

Why the Elements of Reasoning are Essential in Everyday Life
Dr. Gerald Nosich, Senior Fellow
March 4th, 2021
8:00 p.m. Eastern Standard Time (5:00 p.m. Pacific)
Duration: 60 Minutes
Click Here to Join
Passcode:
502982
Our thinking largely determines the quality of our work, learning, and life. Those who have not yet internalized the foundations of critical thinking may view them merely as tools to be wielded on specific occasions, and then to be put away for days, weeks, or even months at a time. For example, such persons may analyze and evaluate their reasoning when making large purchases (cars, houses, etc.), but may otherwise leave their daily decision-making at the mercy of the spontaneous, associational thinking that comes more naturally to human beings.
Those who have made a greater commitment to intellectual discipline are aware that examining their reasoning throughout their waking hours, during the many hundreds or thousands of choices they make in their daily lives, can pay great dividends that accumulate over time.
In this session, Dr. Gerald Nosich will answer your questions about how the Elements of Reasoning – the building blocks of human thought – can be practically integrated into our thinking in everyday life.
Remember: This session depends on your questions, and Dr. Nosich will presuppose that you are reasonably familiar with the Elements of Reasoning in the Paul-Elder Framework for Critical Thinking. Even if you have learned about the elements in our written work, our online courses, or at our events, we strongly recommend you complete the following activities to prepare for this Q&A session: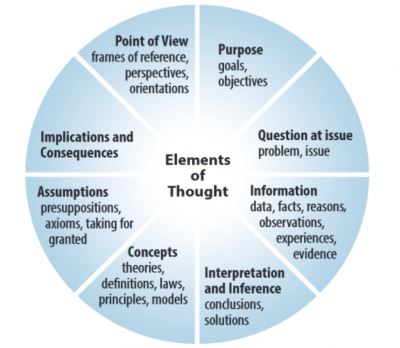 Top ▲