Distinguish Strong Sense (Ethical) Critical Thinking From Weak Sense (Unethical) Critical Thinking
At the heart of the intellectual virtues is the distinction between strong sense critical thinking and weak sense critical thinking:

Strong-sense critical thinkers are fundamentally concerned with reasoning at the highest level of skill, considering all the important available evidence, and respecting all relevant viewpoints. Their thought and behavior is characterized primarily by intellectual virtues or habits of mind. They avoid being blinded by their own viewpoints. They recognize assumptions and ideas upon which their own viewpoints are based. They realize the necessity of putting their assumptions and ideas to the test of the strongest objections that can be leveled against them. Most importantly, they can be moved by reason; in other words, they are willing to abandon their own ideas when other ideas prove more reasonable or valid.

Developing as a strong-sense critical thinker entails understanding, articulating, and critiquing your deepest prejudices, biases, and misconceptions, thereby discovering and contesting your egocentric and sociocentric tendencies (for only when you do so can you hope to develop as fairminded persons). Regularly thinking within other viewpoints about important and personal issues is necessary for developing as a strong-sense critical thinker.
On the other hand, weak-sense critical thinkers use the skills, abilities, and to some extent, the traits of critical thinking to serve their selfish or vested interests; they are unfair or unethical critical thinkers. Weak-sense, or unethical critical thinkers, have the following pronounced tendencies:
They do not hold themselves or those with whom they ego-identify to the same intellectual standards to which they hold opponents.
They do not reason empathically within points of view or frames of reference with which they disagree;
They tend to think monologically (within one or more narrow perspectives).
They do not genuinely accept, though they may verbally espouse, the values of fairminded critical thinking.
They use intellectual skills selectively and self-deceptively to foster and serve their selfish interests at the expense of truth.
They use critical thinking skills to identify flaws in the reasoning of others and sophisticated arguments to refute others' arguments before giving those arguments due consideration.
They routinely justify their irrational thinking through highly sophisticated rationalizations.
They manipulate others to get what they want, rather than acting in good faith.
Activity:
Strong Sense Versus Weak Sense Critical Thinking
Write out your understanding of the differences between strong and weak sense critical thinking.
Complete these statements:
Activity:
Articulate Your Own Definitions of Intellectual Virtues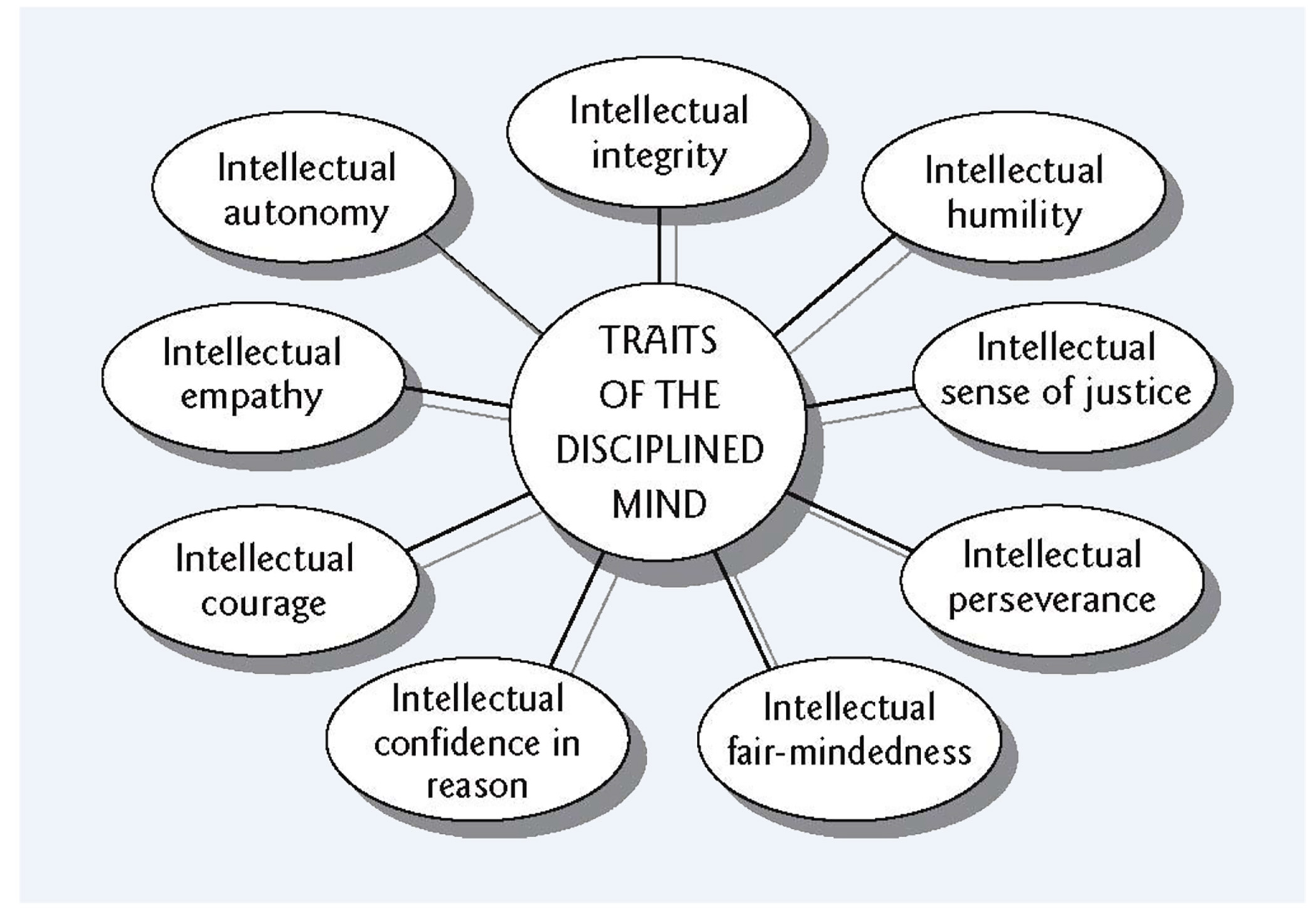 For each of the intellectual virtues in the figure above, (and before you read further) see if you can briefly articulate a reasonable definition of each, and one or two examples of each. We suggest that you use a good dictionary in developing your definitions.
Initially, I would articulate definitions fo the above intellectual virtues as follows: